7agar Tofa7: Sama El Masry in Film Poster Controversy
Attention-seeking, cringe-worthy Sama El Masry has found herself the subject of abuse on social media this week – but this time, for a change, she might be the innocent party.
Egypt's morality police is in uproar on Facebook and Twitter after the unveiling of the poster for her upcoming film, 7agar Tofa7 ('Apple Charcoal' a la flavoured shisha). The phallic imagery of the poster, showing the legs of woman in stockings standing with a shisha between her legs, has has been deemed 'too sexual'.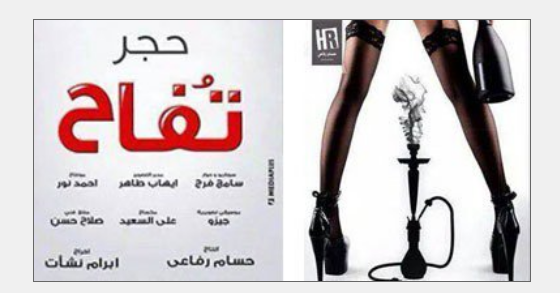 The dancer – and I use that it the loosest and most embarrassing sense of the word – is no stranger to controversy; earlier this year, she took to the streets and made her way to the American Embassy to 'send a message' to US President, Barack Obama. This was quickly followed by a song and video that took aim at TV presenter, Bassem Youssef – the clearly politically educated and knowledgeable Masry wasn't happy about Youssef's constant jabs at messiah of the masses, Sissi.
For once, one can't help but feel slightly sorry for Sama, but one thing is for sure: the film is probably poo.