Things to Do in Cairo This Week
The joy of having Monday off will quickly be excreted on by the guilt and shame of the Can I Be Bothered to Queue Up and Vote complex that is currently rotting your brain from the inside out. Whether your drinking to a brighter future or drowning your shame, Cairo's bars and clubs have plenty to keep you entertained.
DJ SHADY EZZ & DJ OUZO @ CAIRO JAZZ CLUB
(Monday)

Not content with hoards of women in Sharm El Sheikh, Pacha Sharm resident, DJ Ouzo, has been spending a lot of time in Cairo of late, but will have to fight it out with Cairo's Shady Ezz. For the Cairo Jazz Club DJ booth and women.
DISCO INFERNO @ TAMARAI
(Tuesday)

Equally the greatest and worst eras for pop culture, the 80s and 90s will be rearing their beautiful ugly heads at Tamarai, as Disco Inferno sees resident DJ, Lyon Avakian, provide the music.
HIGH VOLTAGE @ CAIRO JAZZ CLUB
(Tuesday)

Cairo Jazz Club hosts an electric line-up for the latest edition of High Voltage; broody shoegaze outfit, PANSTARRS, ravenous electronica act, Machine Eats Man, and Danish electronic-pop adult, BABY DUKA.
FRESH N' FLY @ ONTOP
(Tuesday)

DJ Feedo debuts his new baby, Fresh n' Fly, at Ontop in Zamalek with the help of hip-hop fiends, Mobbz and Hook. Dress like you would if you were trying to blend in with the fine residents of Inglewood, Compton and all those other lovely places in LA.
VOTE
(Tuesday/Wednesday)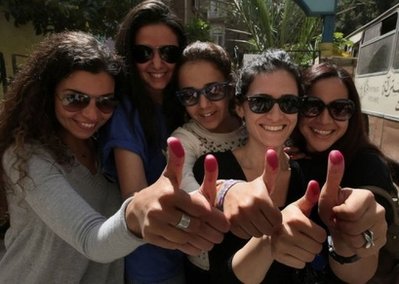 In between hours of browsing through Instagram, procrastinating on Otlob and going to busy bars alone to enjoy the rush of loneliness, I will be voting in the referendum. If I, an emotionless, sexually ambiguous website can, then you can too.
For  more events across Cairo, check out the CG events calendar.