Five Places in Cairo for a Lads' Night Out
There are several boxes that need to be ticked for that perfect lads' night out – usually, it revolves around some kind of combination of alcohol, tobacco-triggered smoke, crude jokes, maybe even some gambling and generally lots of over-the-top, testosterone-fueled shenanigans. Unlike our female counterparts, there are no Men's Nights to be found in Cairo nightlife, because that would just be weird, and the couples-only policy that's so rampant across bars and clubs in the capital is just annoying – why can't two bros go for a couple of beers and a boogie?
But there are places in Cairo that can provide the quintessential lads' night out – they're not perfect, but they're as close as we're going to get. But there are just three simple rules to abide by – we don't take selfies, we don't drink anything that has more than one fruit-based mixer in it and we don't use the phrase sausage fest.
Straddle up, boys – tonight we paint the town r̶e̶d̶ a manly maroon colour called 'grizzly bear blood'.
Possibly the most fitting venues for a lads night out, the Tap – while welcoming to both genders – is as close as you'll get to a modern pub in Cairo. With giant beer taps, lad-diet essentials like wings and ribs on the menu and several bar games to play, you can lad-it-up to your heart's content at the Maadi bar – and there's two more branches opening up this year.
It might not be the hippest bar in town, but Deals 14 – named as such because its on the 14th floor of the Swiss Inn Hotel in Mohandiseen – is more lad-friendly than you think. It's a no-frills pub whose staff are rarely required to serve up anything more than beer and whiskey – and termis, too, plus there's a pool table and several dart boards – although, annoyingly, you need to bring your own darts.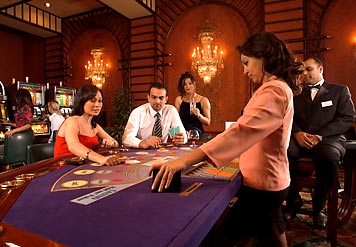 Unfortunately, entry to the Omar Khayyam Casino at the Cairo Marriott Hotel in Zamalek requires a foreign passport (booooo!), but if you are in possession of one, an experience that is equal parts exhilarating and peculiar awaits. Compare it not to the traditional idea of a casino – it's just a big room with tables and machines – but there's nothing quite as lad-ish as pitting your stupid male pride against mustachioed khaleeji with a shiny blue suit on at the poker table only to lose a whole wad of money. But free beer, so, yeah, cool.
As another of the Marriott's outlets, the only thing wrong with Harry's Pub is that it's still very much feels part of a hotel. But depending on what day of the week you go on, you inner-lad will thrive at what is a typical British pub set-up – there's always an old man reading a paper in the corner, a nice young couple arguing and the lingering urge to fight someone for looking at your 'bird'. Ah, good ol' England.
Less of a lads night out and more of a gentleman's evening with associates, the Library Bar at Four Seasons First Residence is a pretty unique venue – one that oozes that sophisticated testosterone that Hollywood has told us women like. With a humidor full of Cuban and Dominican cigars and the best whiskey sour you're likely to ever try in Cairo, this is one for special occasions – the prices are, as you'd expect, are pretty steep. But you'll there's nothing quite like the feeling of holding a cigar in one hand and whiskey in the other.
Honourable Mentions
ACE Club and BCA in Maadi are pretty decent – if you have a foreign passport – the Bear at Palm Hills Clubhouse is good for a couple of post-golf beers, while L'Aubergine's second floor Hi-Tek Bar in Zamalek is fairly inviting for a night out with the homies. For a more chic lads' night out, LIV Lounge in Heliopolis is a pretty good spot, too. Alternatively you could hit one of Cairo's ailing and frankly worrying cabarets.
__________
By Haisam Awad